Covid-19 and an Inland Hurricane Can't Stop D. C. Taylor Co. from Roofing Elementary School
July 13, 2021
Built in 1968 and expanded numerous times since, Bowman Woods Elementary sits nestled in an established neighborhood near the boundary between Cedar Rapids and Marion, IA. The pre-kindergarten through fourth grade school is part of the Linn-Mar Community School District and educates more than 400 students. The multiple-pod building is a beloved public school in the district, but when several roof areas reached their life expectancy, the decision was made to embark on a million-dollar 2020 roofing project; the 26,400-square-foot roof replacement was the final phase of a three-year building improvement project.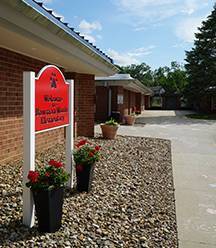 Linn-Mar Community School District hired Shive-Hattery, an architecture and engineering firm with a Cedar Rapids, IA, office to put together the project and it was issued for bid at the end of January 2020.
"In preparation for the bid we made a couple different site visits," says Andrew Tyrrell, Project Representative, D. C. Taylor Co., Cedar Rapids, IA. "Along with reading through the spec and looking over the drawings, we were able to come up with a competitive bid." D. C. Taylor Co. submitted its bid in February, was awarded the work, and finalized the contract in April.
The Project Team
D. C. Taylor Co. worked closely with Shive-Hattery to understand the specifications and staffed the project with team members who had decades of experience and expertise. Timm Haefner, D. C. Taylor Co.'s Vice President Construction, led the project; he is a second-generation D. C. Taylor Co. employee who's been with the company for more than 40 years. He relied on two project managers – Mike Poorman and Roy Rambo – who have more than 60 years of combined roofing experience.
The steady flow of communication was critical to the project's success. Phone and email communication was frequent and every two weeks, the project team (Shive-Hattery, D. C. Taylor Co., and on occasion, Linn-Mar) held an onsite meeting. "Mike and Roy are definitely accessible and worked with us to remedy any issues that came up. The only way communication could have been better is if we had a direct digital link to their brains," jokes Stephen Stewart, Roof Consultant, Shive-Hattery, Cedar Rapids, IA.
At times there were as many as four or five project supervisors at Bowman Woods Elementary leading four crews, totaling 15 to 22 workers every weekday that weather would allow. Every aspect of work was scrutinized by D. C. Taylor Co.'s Safety Manager Kirk Dighton and a fall protection plan was executed with vigilance. "Having all that experience on the roof made for a good outcome," says Mike Poorman, Project Manager, D. C. Taylor Co., Cedar Rapids, IA.
The Project
While the bid originally stipulated that work not begin until June 3, the district's decision to discontinue in-person learning due to the threat of COVID-19 provided the opportunity to start work early. While school was out, the district was still distributing lunches for students. "We had to keep the area clear, so people could drive through and pick up the food," explains Roy Rambo, Project Manager, D. C. Taylor Co., Cedar Rapids, IA. Eventually they moved the lunch distribution to the back of the building. "We had to use two rough terrain forklifts to get piles of materials loaded on the roof while people were driving through. It took lots of patience and vigilance," adds Poorman.
Complete tear-off of the existing roofing systems was necessary. The subcontractor DyTech LLC of Palo, IA, vacuumed the pea gravel from the ballasted roofs in mid-May. This began the tear-off process for the eight roof areas being replaced, known as B, D, E, J, K, M, N, and O. Work was performed between 7 a.m. and 7 p.m. to respect area homeowners and comply with the noise ordinance.
The crew encountered dead conduit running under the roof during demolition; it was removed as tear-off continued. Once the asphalt was removed, wood decking was installed perpendicular to the framing members. Next, 5/8-inch thermal barrier board was mechanically fastened, and a self-adhered vapor retarder was installed. Tapered and flat (2 layers of 2.5-inch) polyisocyanurate insulation was adhered to the vapor barrier and 1/2-inch high density polyisocyanurate cover board was adhered to the insulation. Lastly, 60-mil Sarnafil PVC membrane was adhered to the cover board. Additionally, on roofs K, M, N, and O, D. C. Taylor Co. installed snow guards to prevent large sheets of snow or ice from falling off the pitched roofs.
DyTech was not the only subcontractor D. C. Taylor Co. used. Careful coordination was necessary with Cedar Rapids, IA-based Colony Heating and Air Conditioning, who installed a new 4-inch roof drain; removed an existing HVAC unit; and on roofs B, D, E, and J, raised gas piping to a minimum of 8 inches above the new finished roof surface. (D. C. Taylor Co. provided new pipe support stands.) Pro Exterior Construction, a Cedar Rapids, IA-based siding contractor, performed soffit improvements.
Aesthetics matter along the heavily-trafficked Boyson Road. With so much visibility, the jobsite needed to stay tidy. "Piles of materials were out front and barricaded and tarped. Everything had to look very nice and neat, aesthetically beautiful. It's not like an indus-trial building in a rural area. This was a showcase," says Poorman. "Tearing off asphalt and pea gravel is messy. Keeping things clean while you're using cutters is tough."
To give the sloped roof some design, Shive-Hattery specified the Sarnafil Décor system. "Everywhere the new roofs were visible from the street, we installed PVC membrane Décor ribs. These add-ons give a single-ply membrane the look of being a metal roof from distance," explains Jack Kenney, Vice President National Account Manager, D. C. Taylor Co, Cedar Rapids, IA. The decorative PVC ribs were spaced 24 inches on center and hot air-welded to the membrane, simulating standing seam metal.
Preventing Falls & COVID-19
The only thing more important than delivering quality workmanship to D. C. Taylor Co., is ensuring the safety of its crew. Before work on the project even began, a project supervisor evaluated the site, tasks, and tools required and completed a job hazard analysis. From this document, the safety manager drafted a fall protection plan comprised of countermeasures to address all hazards and prevent falls and injury. This plan prescribed cable flag stands for fall restraint. "At the corners, we used single point anchors with leading edge self-retracting lifelines because of the swing fall risk," says Dighton. The crew worked in harnesses about 30 percent of the time.
Every worker's safety was important. "It's our project. We are in charge of subcontractors' safety as well," notes Dighton. Because Pro Exterior is primarily a residential contractor, they were unfamiliar with all the necessary safety requirements on this project. "We let them use our forms and paperwork. We went through it step by step and made sure they were doing everything safely on their scaffold," notes Poorman.
Aside from falls, the other big concern was heat-related illness. Summers in Iowa mean temperatures reaching 80-90 degrees and an average relative humidity of 84 percent. The crew didn't have the option to begin the workday earlier to avoid the hottest hours of the day. "It was very warm. We went through a lot of water. Fortunately, there are very good shade trees to rest under at Bowman Woods," notes Dighton.
Safety on this project also meant preventing the spread of COVID-19. Precautions were new. Tools and trucks were sanitized, and masks were recommended when tasks required working in close proximity. "It's very difficult to keep a mask on while you're doing physical labor in the heat. They did a really good job," notes Dighton. "No workers contracted COVID during the project."
The Derecho
About 97 percent of the roof was laid up when a once-in-a-decade thunderstorm called a derecho hit the area. Project Manager Mike Poorman noticed the sky getting dark off to the West and immediately headed to the jobsite. When he arrived, he instructed the crews to get everything off the roof, get down, and secure materials. The crew sheltered inside the school's main entrance as a wall of wind and rain pounded the building and uprooted neighboring trees. The inland hurricane blasted eastern Iowa with straight-line winds ranging from 100-140 mph for more than 40 minutes on August 10. "The school sits in the heart of a heavily wind-speed damaged area," notes Stewart.
Damage to the newly laid roof at Bowman Woods Elementary was surprisingly minimal. One corner of the membrane blew up and there were a few small holes. "It damaged some gutter too; we had to replace about 30 feet," says Timm Haefner, Vice President Construction, D. C. Taylor Co., Cedar Rapids, IA. No one expected that D. C. Taylor Co.'s workmanship would be tested so soon.
"There were some issues from flying debris. D. C. Taylor Co. went above and beyond and took it upon themselves to fix those and even make temporary repairs on some other roofs," says Stewart. One pile of insulation got uncovered from the wind and some of the flag stands blew off the roof. "We took a week off to assess what was going on at our homes and at D. C. Taylor Co. Plus, we had no power. Then, we got back to work on the project," says Poorman.
Finishing the Job
Work stretched into the school year. D. C. Taylor Co. finished installing the membrane roof in late August, but still had a lot of metal to do, hanging brackets, gutters, scuppers, and snow guards. Once the building was hosting students again, everything that wasn't done had to be completed on the weekends. The project was done in early November.
"Sarnafil had very few issues during their walk though. That's a good indication that it was a quality install," notes Stewart. "The project went really well. And our client was super happy with it."
Questions about reroofing? Call 319.731.4118 or email [email protected].
---
Contact Us Today To Get Started On A Quote